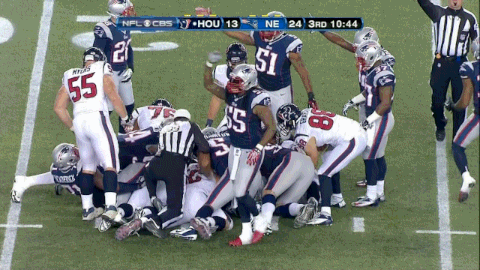 There is really no other reason for this fumble recovery .gif than the fact that it is AWESOME....and the fact that these recent face finds below are a total touchdown in the beauty department!

Moisturizer -Ole Henriksen Truth Creme Advanced Hydration
I'd never heard of Ole Hendriksen products, but one of the bloggers I read has raved about their products for awhile, and I needed a heavier moisturizer for my face, so I decided to give Ole Henricksen a go. Before I bought the full size, I got my little hands on a couple of samples. The sample I was the most impressed with was the Truth Creme Advanced Hydration. It goes on smooth, and feels almost souffle-like as it sinks in. I love that it doesn't make my face feel greasy, I can apply it before bed or in the morning under makeup, either way it feels (and smells) great! I've also noticed that after using it for a month, my skin is much better (less flakey, smoother, and less acne = winning).

Skin Corrector - VANISH Instant Imperfection Corrector
I know I've talked at length about my problem skin, but a year shy of 30, I'm still too embarrassed to leave the house without some type of makeup/cover up because its so bad. I received a sample of this product in my monthly Birchbox (if you don't get Birchbox or BeautyBar Sample Society, I highly recommend looking into them. I think I've found almost all my beauty products through these sample services). VANISH is smooth and silky feeling, you put it on clean skin, or after moisturizer. I tried putting it on a clean face before doing errands a couple of times, and found that I barely needed foundation or cover-up. This product makes imperfections less noticeable and smooths the surface of the skin - I like using it on its own with a little concealer, or as a primer.
Smashbox High Definition Foundation & concealer
I realize that I raved about Laura Mercier foundation in the last makeup post, and the product was great for my skin throughout the fall and into the winter. For some reason though, about a month ago I started to find that my foundation made my skin look incredibly orange. I'm not sure why this happened, so I went in to see my favorite Sephora makeup girl. She told me that it was probably because I was spending less and less time outside, so my skin lost all of its color and it was time to find a fair foundation for winter/spring, or at least until I start spending more time outside. This foundation/concealer combo makes your skin tone look clean, even, and covers blemishes and imperfections pretty well (not as well as i'd like, I have to apply a couple of dabs of concealer & let them dry). I was really surprised with how light this foundation feels on my face, which is a welcome feeling after the heaviness of the Laura Mercier foundation.

Smashbox Complexion Perfection Kit
So, since I've raved about 3 of the 4 products in this kit ($49 right now on Sephora.com) I figured I'd include it in my review. You've probably gathered that I travel quite a lot for work, and am always looking for smaller versions of the products I use. The fact that this set actually contains a LOT of product for the money really impressed me. When used together (primer, foundation, concealer, setting powder) the result is nearly flawless skin. The smaller containers are also nice because you can try them all together for the price of 1 regular size before you commit. Further, the set is EXACTLY what I was looking for in terms of making my packing list shorter for work trips.

Fresh SUGAR Rose Lip Treatment
This product was a complete surprise find for me. My birthday was a couple of weeks ago and I received a free Fresh Sugar mini lip duo from Sephora with my order. I'd seen Fresh lip treatments before, but always balked at the price because I go through lip gloss like you wouldn't believe (I don't actually ever finish one, I just tend to lose it in one of my purses, totes, gym bag, desk drawer, etc. than find it again months later). Anyway, I have both the Rose and Clear treatments and really like both. I neglect my lips big time, so this is big for me to suggest it to friends. After a couple of days of use, I found my lips were more hydrated and less flakey, which is a welcome change!
Do you have any recent face finds you want to share? What beauty product can you not live without? Try anything lately that you would NOT suggest? Tell us about them!