We hope you all had a great holiday, and for those like H who had to be back at work bright and early this Wednesday morning, here's a post to entertain your day.
How we waited until our late 20s to discover the blazer trend is beyond us, but for those of you in unfamiliar territory, this wardrobe staple does it all. A blazer can take you from an important meeting, to a hill briefing, to happy hour, and then on a date. A blazer almost always looks appropriate & chic, and depending on what you pair with it can be casual or dressy. M loves to pair blazers with jeans on the weekends for an easy pulled-together outfit, while H loves to add one over a simple t-shirt with skinny jeans. Here are some examples that we either own, or are currently drooling over...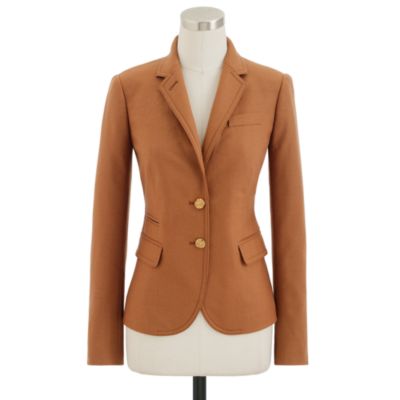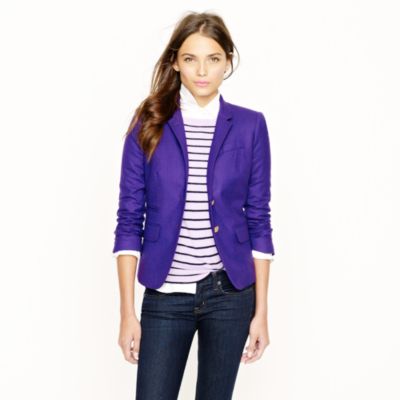 The classic style is one of our favorites because, well, it's classic. It can go with anything and will never go out of style.
Tweed or Herringbone Blazer or Ladyjacket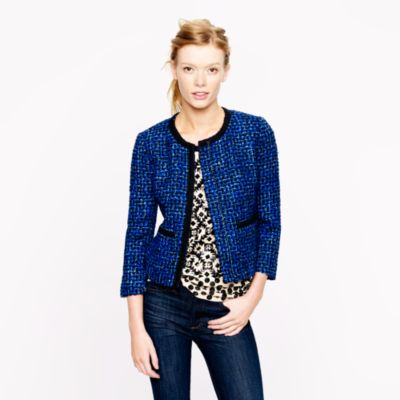 These are classic patterns for blazers, which can be paired with a more modern cut. This style is a great way to take that really casual outfit up a notch.
Patterned Jacket/Blazer
The patterned blazer can be a little more difficult to wear. The key here is to keep everything else, including jewelry, simple so the blazer can be the star.
Velvet blazers are the perfect addition for a simple, elegant evening look. Just be sure to roll your lint brush over the whole thing before you step out the door.
Lastly, we have the tuxedo jacket. If you want to add a slight masculine edge to your outfit, while still retaining some femininity, this is the piece to add.
What are your favorite blazer styles? Do you think they're as versitile as we do?